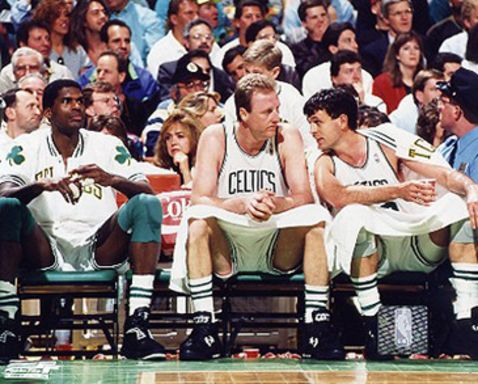 In the mid 80's I was just becoming old enough to understand sports and I fell in love with basketball. More specifically, I fell in love with the Boston Celtics. They were just about to win their sixteenth championship and I couldn't get enough of the oversized foam fingers, caricature cartoon t-shirts and stories of past and present legends. I remember coveting my cousin's Celtics wastebasket. I got a Celtics calendar for Christmas one year and made drawing of the players and memorized the schedule. I wanted to learn everything I could about my team. I loved each of the players – especially the ones that didn't get into the game much like Stojko Vrankovic and Charles Smith. I wanted to find out everything I could about them as well.
I am, for better or worse loyal. When I care about something or someone, I really can't stop caring. I am terrible at moving on because it is against my nature. That is why, when the Celtics were no longer good, I couldn't stop following them. They were my team and I loved my team. No amount of bad front office decisions or losing seasons could change that.
I remember hearing a story about how a husband cared for his handicapped wife the last 10 or so years of their marriage. She had gotten into an accident and had brain damage. She did not know who he was and was basically a vegetable. Still, he stood by her and took care of her with all his heart. They asked him why he still loved her so much and he responded, "She is my wife and when I promised I would love her in sickness and in health 'til death do us part, I meant 'till death do us part'". Maybe that is why people like the movie The Notebook so much. It is easier to divorce and take the easy way out when the going gets tough. It is much harder to stay true and committed.
Some people look for any reason to party. They hop on the nearest bandwagon and start loud chants. They go from trend to trend latching on to whatever is cool and identifying themselves with the latest and greatest fashion. They have no identity and follow the crowd. They smash windows and throw cars. True fans are a little more grounded. They love the good times but are willing to accept the bad times as well. They don't turn the game off when their team is being blown out at the end of another losing season because they care. When you really care about something it is really hard to stop caring about that thing. It's not a light switch that you can flip on and off depending on how well things are faring. True fans never stop hoping, never stop believing and never stop dreaming.
I had a softball game in the north end last night. As I walked past the Boston Garden before game time I saw news trucks and Celtics jerseys and vendors. I thought about how good the team used to be. I thought about Larry Bird lining up 3-pointers and diving for loose balls with his bad back and Robert Parish hitting rainbow jumpers and throwing down tomahawk slams. I thought about Dennis Johnson hitting clutch jumpshots and how long I waited for Bill Walton's injury to get better. I thought about Dee Browns leaping ability and my favorite point guards Jon Bagley and Sherman Douglas. I thought about Xavier McDaniel and Dominique Wilkins brief stints and when they finally made the playoffs again and almost beat Shaq and Penny in 1995. I thought about the joy that Antoine Walker and his wiggle and misguided thoughts as to how to play the game brought me. I thought about Rick Pitino and how sometimes things don't always go as planned. I thought about how long it had been since the Celtics were relevant and how you can go your whole life hoping and believing and working for something and wonder if it will ever happen and be overwhelmed with joy when it finally does.
I walked around for a little bit and soaked in the atmosphere. At one point we were the best. Then we fell so far I wasn't sure the present could ever equal the past. I thought about an event that was about to happen that required years of preparation and would be remembered for years to come. So much history boiled down into one place and one moment. Sometimes you wonder if hard work and effort will ever pay off. Still, sometimes underlying desire and passion win out and provide strength to carry on.
I thought about the deaths of Len Bias and Reggie Lewis. I thought about Kevin McHale, Kevin Garnett and Kevin Gamble. I thought about physical players who weren't as talented but worked hard like Greg Kite and Kendrick Perkins. I thought about personalities and struggles and goals and battles and devoting your heart to something. I thought about stories and pain and hope. I thought about pride and tradition and victory and defeat. I thought about dreams coming true. I thought about life, love and loyalty. Most of all, though, I thought about heroes.