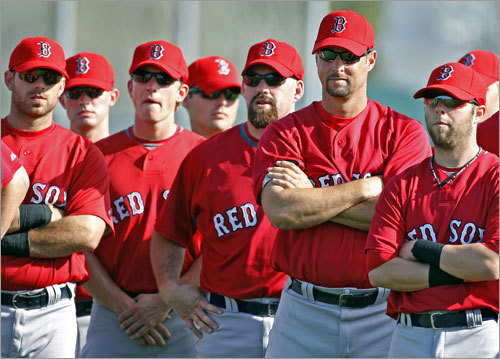 Growing up as a Boston sports fan in the 80's and 90's wasn't exactly easy. There was the whole Bill Buckner thing. Clemens could never seem to win the big game. My favorite player on my favorite team in my favorite sport suddenly collapsed dead in a gym one day of an irregular heartbeat in July of 1993. The Patriots were atrocious. Do people remember how bad they were? I remember how excited I was when they almost beat the Giants in their last game of the season in 1990. Winning this game would have put them at 2-14 for the season rather than 1-15, but the Giants were a good team and even though they were probably sitting half their team, I took this as a huge positive sign for the 1991 season (To my credit, the Pats did go 6-10 in 1991). I did witness a Celtics championship, but I was only 7 years old and was still trying to figure out why Dennis Johnson's nickname was "DJ".
I remember thinking that if just one of my teams won a championship I would be satisfied. Like any Cubs fan will tell you, I wasn't sure if it would happen. Or, maybe it would happen and it would be an experience that my great-great-grandchildren would never forget. Even if it did happen, I wasn't even sure what the ramifications would be. I started wondering if curses actually did exist and how you would go about breaking them – if indeed you could break them. Mostly, though, I resigned myself to the belief that nothing would go my way and something bad would always happen no matter how much things seemed to be going well and I would always be frustrated and get my heart broken. It was the same for my dating life, so I figured that was just the way things were. My life script was "good things turn bad" and my motto became, "don't expect anything good to happen because you'll just get disappointed and it will just hurt more". I knew that heartache was inevitable, so I just concentrated on ways to manage pain.
They say that a lot of times things happen when you least expect it. Sometimes, just when you think things can't get any worse, they don't get any worse. Sometimes, too, they get even better than before they got bad. It's like when the Celtics got the #5 pick in the lottery last year instead of the number #1. If they hadn't got the #5 pick they wouldn't have traded for Ray Allen and if they hadn't gotten Ray Allen then Kevin Garnett wouldn't have joined the team and if Kevin Garnett hadn't joined the team James Posey probably wouldn't have wanted to play here either. Maybe getting the #1 pick and drafting Greg Oden would have worked out, but he did spend his entire rookie season on the disabled list and I would probably still be using green17 as my password for everything.
Not a whole lot was expected of the Patriots in 2001. When Drew Bledsoe was knocked out of the second game and the Pats started out 0-2, a whole lot less was expected. But the kid Brady had a few surprisingly good games and showed remarkable resiliency and guts and fire and determination and suddenly the Pats started stringing "W's" together. I think everyone was blindsided with the Patriots success that year. Needless to say, when Vinatieri knocked in that field goal I was elated. Like Jim Valvano, I was at a complete loss for how to even celebrate and was looking around the room at people in disbelief. I was convinced that something bad was going to happen. Something bad always happened. But, that night, only good things happened. They changed the complexion of Boston sports. We weren't losers anymore. We started believing that anything could happen. We slayed Goliath. We were the champs. I say "we" because they were my team. Whether the record was 1-15 or 18-1, I was with them all the way.
Soon, the Red Sox followed the Patriots success. Eventually, the Patriots became Goliath and other teams were trying to knock them off. Even the Celtics got in on the action after a 20 year layoff (I guess 20 beats 86). At one point last year, the Red Sox were in the world series and the Patriots and Celtics were undefeated. I don't know how life was a sports fan can get much better than that.
Still, if there is one thing I've noticed, it's that the one championship wasn't enough. Soon, I wanted more championships and championships on top of championships and championships on top of different teams on top of consecutive championships. The thrill of victory is terrific, but it isn't lasting. There is an unquenchable thirst for more and I don't think this is necessarily a bad thing. The championships quench the thirst for winning for a little bit, and then we get thirsty again.
When I was little I used to ask my father who would win if the Patriots played the Celtics. I was always frustrated that he could never give me a straight answer (they do play two different sports after all). It's almost as if I wanted there to be a winner of winners and champion of champions. A clash for the ages that would result in a final and permanent winner where the thirst for more would be quenched.
I suppose the disciples didn't think things could get any worse when Jesus was crucified. There was great confusion and sorrow and sadness and frustration. People started questioning meaning and purpose and His whole trip to the earth seemed like one big let down. Good things turned bad. They turned very bad. The hope for mankind came and was treated wrongly and beaten up and tortured and crucified. It was the greatest injustice in the history of history, and all signs pointed to the belief that the mission of Christ had failed.
It's interesting that the greatest defeat was also the greatest victory. If you take the most final type of loss, you end up with death. If you defeat death, you get the most final type of victory. I was hopeful that the Red Sox would win tonight and advance to the World Series. It breaks my heart that they didn't. But I know this time around that even if they did win it all I would want the same thing again next year.
I still believe that good things turn bad. The Garden of Eden was good and sin came into the world and made things bad. But Jesus came into the world as well and because of what he did, bad things are turning good again. The loss tonight will sting for some time, but the only contest that really matters has already been settled. He won the greatest victory of all time bringing the greatest satisfaction by enduring the greatest defeat and the final whistle blew when he said it was finished.
He came and He is coming again to bring rest to longing hearts full of desire for what we all know is missing and what we search for even in baseball games and late nights on the couch. When we are reunited, those who follow Him won't even be close to being let down.
"Therefore, since we have been justified through faith, we have peace with God through our Lord Jesus Christ, through whom we have gained access by faith into this grace in which we now stand. And we rejoice in the hope of the glory of God. Not only so, but we also rejoice in our sufferings, because we know that suffering produces perseverance; perseverance, character; and character, hope. And hope does not disappoint us, because God has poured out his love into our hearts by the Holy Spirit, whom he has given us." – Romans 5:1-5